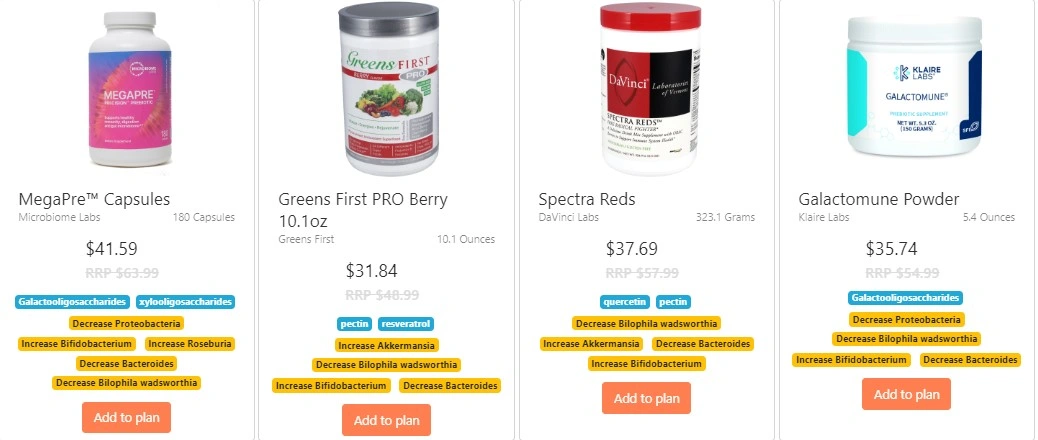 New Feature Update - Supplement Recommendations
We are thrilled to announce the release of one of the most sought-after features from our customer base - Personalized Product Recommendations! Our previous recommendations included foods, prebiotics, and other supplement ingredients. With this new feature, we go one step further to make your journey more personalized and convenient.
We match you to a shortlist of products (sourced from Fullscript's extensive catalogue of 20,000+ products)
We show it's expected impact and the key active ingredients and sort your results accordingly
You can easily add a product/products to a Fullscript order and complete the purchase on Fullscript. Customers that are new to Fullscript will receive a sign-up email, while existing customers just need to link their Biomesight account to their Fullscript email
Search for products by ingredient, e.g. you can search by probiotic strain and you will see all products that contain it
Unlike our competitors, we don't match you to our own brand supplements - instead, we search through an extensive catalogue of professional-grade supplements and match you to the products that match your Biomesight recommendations, hopefully saving you the effort of finding these products yourself
Our introductory promotion gives all customers 20% of the manufacturer's RRP on all products!
Fullscript offers free shipping on orders over $50 to the USA
International customers can use the services of a shipping company like MyUS to ship products to the UK, EU and other international destinations.
If you are working with a practitioner on Biomesight, they can put together a supplement plan for you on Biomesight and send it to Fullscript on your behalf
Fullscript Frequently Asked Questions
Planned future developments relating to this feature
Exclude products based on allergens on the Biomesight health profile
Filter recommendations by impact, ingredients, supplement type and allergens
See other matching products (we currently show just 1 product for each set of active ingredients)
Enable Fullscript orders to Canada
Partnership and Integration with a provider that can ship products to the UK, EU, Australia and other international destinations
Recommendations caching for performance improvements
Supplement recommendations are personalized based on a selected sample and can be accessed either from the Supplements menu item (including ingredients search) or the Supplements tab from the Recommendations menu item.
If you have any questions, please do not hesitate to reach out to us at support@biomesight.com.